Subscribe

---
3.6.2010 : Zach is Now Moderately Famous
The Recording Tour got a writeup in Groove Magazine, a magazine for expats in Korea. Nice! I looked around but couldn't find it in the online version -- evidently it's only in the printed magazine, so unless you're in Korea and you can pick up a March copy of Groove, you'll just have to believe me that it was a nice writeup. I REALLY have to finish mixing this thing.
---
11.27.2008 : Tour of Love
The Recording Tour of Love is done. Now for lots of mixing and catching the blog up to the present. Enjoy the wait!
---
10.13.2008 : Recording Tour 75%!
My Recording Tour of Love is 3/4 done! I have only one more Loop left, covering the Southwest, and I'm done! Keep yourselves tuned.
---
6.13.2008 : My Recording Tour of Love!
It is almost underway! Today marks the launch of the official travel blog I've set up for the tour. Have a look!
---
4.17.2008 : Getting Ready to Tour
I'm beginning preparations for my Summer 2008 Pan-US Tour of Love! Starting in June, I'll be recording three albums' worth of material in three months of touring. Awesome eh? If you live in the States and you'd like me to stop by, drop me an email.
---
12.18.2007 : A Christmas Carol
Starring Jessica Lofbomm as the ghost of Christmas present! Speaking of Christmas presents, Jessica approached me about recording a Christmas carol, and it so happens I love arranging those. So I had her over to the studio and we recorded this. Enjoy!
---
8.4.2007 : Music Site Renovations
Serious renovations on the music site! It took me the better part of two days, but I finally debugged the Flash player, so now HQ streaming audio with a snappy little interface works throughout. In addition, I added my senior recital from my final year at NCU (as a free album), made a new graphic for The Computer Sessions, and cleaned up some code. All around a productive couple days.
---
8.2.2007 : New song "I Choose to Lose"
New song "I Choose to Lose" just kind of fell together over the last couple days. It's up on my IAC site. From a lyrical perspective, I feel like it says something new. At least, I've never heard this concept expressed before in a song.
---
5.2.2007 : Streaming HQ audio
Added a nifty Flash player to the music site. Still working on the backend, integrating it into the site better.
---
10.21.2005 : Composer's recital remastered
Just today Zach finished remastering his composer's recital, and the mp3s are available for download!
---
4.30.2005 : New wallpaper available
From the "Blessed Hope" live concert posters. 1024x768.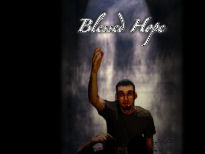 ---
4.15.2005 : Zach at Bordertown on a Friday Night
Come on down friends! Bordertown is a coffeeshop around 16th & University where Zach will be playing at around 8:15pm. If you have a Zach favorite, come on over and request it. While you're at it, buy coffee.
---
4.9.2005 : More mp3s up in Computer Sessions
Check it! Lots of Zach's early guitar/whistle ideas.
---
4.6.2005 : Zach & Amaryah @ Bordertown
Zach and fellow singer/songwriter Amaryah played at Bordertown (a little north of 16th Ave. and University, by the U). Zach did a lot of his songs, and really started to feel internal pressure to finish some of his newer songs underway. Also, Amaryah did her usual "playing good music" thing, performing one of Zach's new favorite songs, which is probably called something like "Today's Been a Long Week."
---
3.17.2005 : Zach's Senior Recital
There it was, Zach's hour(s) of glory. Zach hopes that if you came, you enjoyed it, and that if you didn't come, you had a really good excuse...
---
12.10.2004 : Zach Bardon Music is online!
Officially launched my music site!
---
11.5.2004 : Zach and Jeremy Messersmith
Zach's first coffeeshop gig was at Betsy's Back Porch in Minneapolis, opening for talented local songwriter Jeremy Messersmith.
---
10.19.2004 : Zach Bardon and Jeremy Wilson Live
Zach and brilliant songwriter Jeremy Wilson did a joint concert for the NCU campus and surrounding community. Some of your favorites, as well as a whole lot of new stuff. A strong musician lineup, including many musical guests. It was a great show and a lot of fun. Special thanks to the friends that made it out or up or over.
---
10.2.2004 : Site is Conceived in the Mind of Zach
Work begins on the Zach Bardon Official Music Site. The Mayor of Zach's brain began the design and construction process by throwing the first shovelful of imagination over his left shoulder, to a 21-chord salute.
---
5.14.2003 : Live concert CD available
My Live Concert CD "Blessed Hope" available for purchase from my site